This post may contain affiliate links which means I will get a commission if you make a purchase at no additional cost to you. As an Amazon Associate I earn from qualifying purchases. Please read my disclosure for details.
Purée meat is a necessary part of some diets. Whether that is babies or old people, pets or parties, there are times when meat needs to be puréed.
So, how do you make the meat into meat purée?
Answer: You use a blender or a food processor. A blender can create a range of puréed foods including homemade baby food, creamy soups, puréed meats, smoothies, vegetable juice, and more.
Our guide looks at the best blender to purée meat that we could find. Plus, a guide on what to look for when buying a blender for your meat.
Blenders For Puréed Meat: What's The Deal?
The last thing anyone wants is chunks of meat in an otherwise smooth dish, for example, soup. Puréed meat can be an asset in any recipe to add flavor and contrast and definition to the dish.
Blenders are one of the best devices for puréeing meat. Though you still need to do some preparation beforehand such as chopping and washing the meat.
But after your prep, you still want a blender that can turn solid food into puréed food.
The Product
Product Overview
The Vavsea 5-in-1 Multi-Function Immersion Hand Blender is a nippy little tool. It has five different attachments including a puréeing meat function. 
Other attachments include a whisker, a frother, and a food chopper. We will focus mainly on the food chopper, as that is the part that allows us to purée meat.
Alongside the attachments, you get 12 different speed settings and stainless steel blades.
1000W of power is harder to find with a handheld blender, but that's why this one is an immersion. 1000W will give you all the power that is required for puréeing meat with little strain or effort on the blender's part. 
Why It's Great For Meat Purée
Convenient And Well-Designed. The blender stick attaches directly into the food chopping bowl. They slot together perfectly as they were designed for this specific purpose. The handle is designed to be easy on the skin and the muscles while in use.
Powerful. 1000 watts. This is exactly how powerful this immersion is. If we were just using this blender to make smoothies, they would be the smoothest smoothies to ever exist. To put it into perspective a bit more, the average hand blender comes in anywhere between 300 and 670 watts.

So, you see, you are getting considerably more power than that. That's what makes this the perfect kitchen addition for puréeing meat. Meat is tough, even when cooked it can still be resistant to chopping up and especially puréeing. So, you need something powerful to do that job.
Stainless Steel Blades. The blender stick is the part we are looking at for meat purée purposes. The blender stick has more than one sharp blade, made completely from stainless steel which makes it equipped to handle all kinds of foods including most kinds of solid food such as meat or frozen fruits.

Stainless steel is more durable than alternate blade materials. It is more water-resistant, resists rust for longer, and is easy to clean generally.
Cleans Easily. One thing you absolutely can't compromise on when it comes to cooking, and especially cooking meat, is the cleanliness of your cooking equipment. The food chopper is BPA-Free plastic, and completely safe to go in the dishwasher.

It can be rinsed with any standard dish sponge without fear of causing damage or scratching the exterior. Just use soapy water and rinse properly after use, preferably with hot to touch water.

You can clean all the blades as they are fully detachable. Just remember not to put any of the electric components into any water.
Cons
Small Capacity. The chopping bowl is 17 oz. This is a small bowl with a therefore low capacity for holding food. For a full-blown puréed meal, you may need to do multiple blender loads before you have the desired amount of puréed product. 
Verdict
A versatile blender with a lot of power and amply strong steel blades. Puréeing your meat will not be a challenge for this piece of kit.
What To Look For In A Meat Purée Blender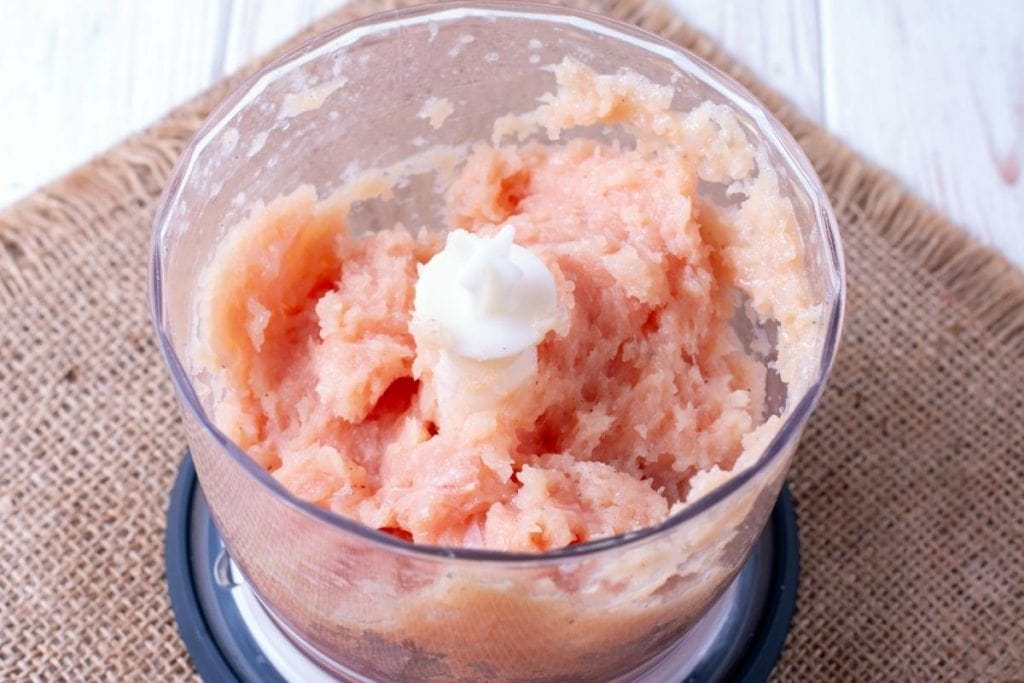 Immersion Blender V.S. Countertop Blender
The consensus may be that countertop blenders are better suited to tougher foods.
While that may be true for some models, this immersion blender proves otherwise.
Any food processor or blender has the specific purpose of blending and processing regular food and transforming it into other channels of existence.
There are pros and cons to both sides, for example, stand blenders are generally more powerful than your average immersion blender. Again, our model does not lack power.
Stand blenders normally have high-capacity containers. This is true, and as we've said, we think the food chopper part of this blender could be improved. That being said, there is nothing stopping you from using the hand blender stick in a deeper, pre-existing container. 
Watt Power
Watt power is important as it indicates how strong a blender or a food processor is. The better the strength, the more capable the blender or food processor is at their job.
Lots of meat chunks will still require an amount of warm water in order to help them become puréed more easily. However, with enough watts behind the blending functions, you won't need to compromise the meat at all.
Cleaning Your Blender
Anything that is dealing with cooked meats or raw meats needs to be extremely cleanable.
There is always a risk when cooking meat products, of harmful bacteria lurking around before, during, and after the cooking process.
Therefore, look for a blender that is dishwasher safe and preferably BPA-Free. That's not to say that you can't clean the blender by hand. But, a dishwasher is more efficient at a deeper and more hygienic clean.
Frequently Asked Questions
Is It Easy To Purée Meat With A Blender?
Yes. If you get the right blender, it's really easy to purée meat.
How Long Does Purée Meat Last?
You can store freshly puréed meat in the refrigerator for up to 48 hours and no longer.
You can freeze it for a few months.