This post may contain affiliate links which means I will get a commission if you make a purchase at no additional cost to you. As an Amazon Associate I earn from qualifying purchases. Please read my disclosure for details.
KitchenAid Classic Plus vs Artisan, which stand mixer is better? Find out their differences and similarities to help you decide which one to buy.
If you're in the market for a new stand mixer, KitchenAid is one of the best brands to get.
And with the long list of KitchenAid stand mixers, two units stand out: the KitchenAid Classic Plus and KitchenAid Artisan.
What is the difference between KitchenAid Artisan and Classic Plus? We'll compare the two models in this KitchenAid Classic Plus vs Artisan showdown.
By the end of this read, you'll learn about their differences and similarities, as well as important considerations when choosing a stand mixer.
KitchenAid Artisan vs Classic Plus? Which one will give you the best value for your money?
Do You Need A Stand Mixer?
Since you're already here, chances are you've decided you need to buy a stand mixer. Whether you have to replace your old one or decide to add one in your kitchen, you've come to the right place (or blog post. 😉)
So is it necessary to have a stand mixer?
If you find your trusty hand mixer lacking for your baking and cooking needs, it's time to invest in a stand mixer for a fuss-free kitchen experience.
But because stand mixers are pricier than hand mixers, I know you want to purchase something that won't let you down and stand the test of time.
Is KitchenAid stand mixer a good brand?
It can get overwhelming to choose a brand for your stand mixer because of the many options in the market. So to save you from opening multiple browser tabs just to compare the best stand mixers, let's go with KitchenAid stand mixers.

KitchenAid is a good brand of stand mixers because of their versatility, reliability, power, and beauty.
Of course, if you don't find yourself making big batches of baked goods often, you can get away with a hand mixer (by the way, do you know the difference between a hand blender vs hand mixer?) instead of a pricey KitchenAid stand mixer.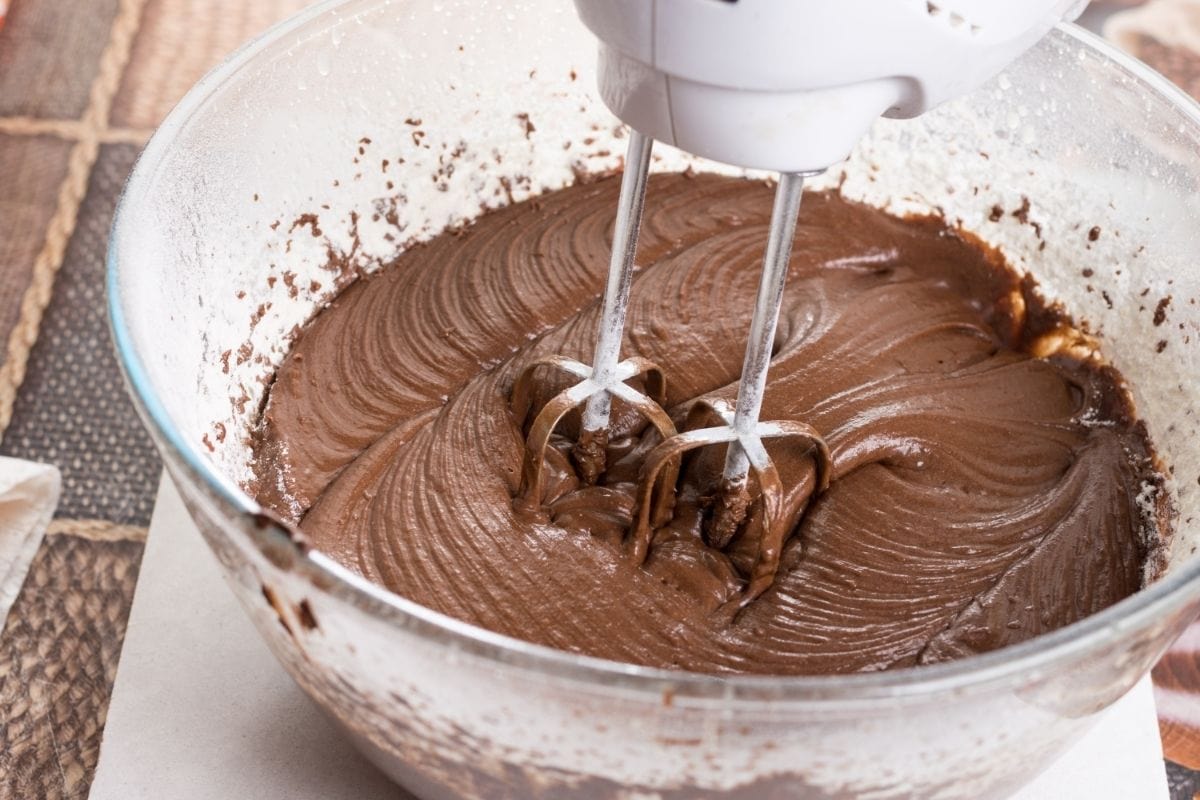 But for those who want to effortlessly whip up ingredients and are looking for a reliable machine to add to their kitchen, two KitchenAid mixers stand out: let's compare KitchenAid Classic Plus vs Artisan.
Let's start with the first contender on our KitchenAid Classic Plus vs Artisan showdown: the KitchenAid Classic Plus stand mixer.
Despite the positive reviews on Amazon, Walmart, and Kohl's, the beloved KitchenAid mixer Classic Plus is currently out of stock. I only found a KitchenAid Classic Plus mixer on Ebay. 
If you're curious why it's one of the best ones to get, here is what to expect with this stand mixer. 
Design
The Classic Plus is a tilt-head stand mixer, so it's easy to access the bowl for ingredient incorporation. You can also lock the head while working so the beater and bowl are still close to each other. 
The mixer uses a brushed stainless steel 4.5-quart bowl with no handle compared to the 5-quart Artisan, which uses a polished stainless steel bowl with handle. 
Performance
The 275-watt Classic Plus may not be as powerful as the 325-watt KitchenAid Artisan, but you can do a lot with this 10-speed mixer. From whipping cream to kneading dough, Classic Plus is a reliable mixer that also prevents ingredient splash and flour puff, thanks to its Soft Start feature.
User-Friendliness
The KitchenAid mixer Classic Plus is a straightforward unit that won't intimidate you. One-handed operation is possible, and even removing or inserting the bowl is fuss-free. 
You'll also appreciate that compared to other stand mixers; you won't need to scrape the bowl when beating or mixing dry or wet ingredients.
Ease of Cleaning
Because of the Soft Start feature, spills are not an issue, and clean-up is a breeze both on the bowl and mixer of the KitchenAid Classic Plus. You can also check what attachments are dishwasher-safe when cleaning your mixer. 
Unique Features
For a price of under $330 (as of this writing), you'll get a powerful stand mixer that is simple to use and easy to clean.
If you don't want to spend too much on your stand mixer, this versatile KitchenAid stand mixer is a strong contender since you can also use it with KitchenAid's accessories. 
Can't get your hands on the KitchenAid Classic Plus? Try the KitchenAid Classic Series available at Walmart, Amazon, and Target. We've also compared the Classic to the Classic Plus and Artisan below, so keep reading!
What we like about the KitchenAid Classic Plus:
Reasonable price
Compatible with KitchenAid accessories
What we don't like about the KitchenAid Classic Plus:
Bowl has no handle
Not as powerful as the Artisan for handling heavy dough or challenging ingredients
Now for the slightly pricier KitchenAid stand mixer in this showdown between KitchenAid Artisan vs Classic Plus: the Artisan. As of this writing, it's listed for under $460 on Amazon, and as you've just previously read, it has some similarities and notable key differences to the Classic Plus.
First, the Artisan is the same as the Classic Plus in terms of the included C-shaped dough hook, flat beater, and wire whip. What is the difference between KitchenAid Artisan and Classic Plus?
The Artisan has a larger capacity since it's half a quart bigger. To give you an idea, the cookie yield of the Artisan is 9 dozen versus the 6 dozen yield of the Classic Plus.
You can test these claims with our easy sweet and savory bacon chocolate chip cookies!
Its bowl also has a handle, which is a plus for handling, and the KitchenAid Artisan's wattage is 325.
Design
KitchenAid Artisan is a tilt-head stand mixer like the Classic Plus. But if we compare it to the Classic Series, you have more color options since the former is only available in onyx black and white.
The Artisan comes in many colors, so picking what matches your kitchen's aesthetic should be easy. Furthermore, its polished stainless steel bowl with handle looks shiny and classy compared to the brushed stainless steel bowl of the Classic Series.
Performance
The powerful motor of the Artisan makes it ideal for those looking for an all-around mixer. And while it comes with different speed settings, you don't need to worry about the Artisan falling off your countertop.
KitchenAid Artisan is also well-designed to ensure that you won't get inconsistent results on your mixes (e.g., leftover unmixed ingredients.) The mixer won't struggle whether you're making frosting, pizza dough, or batter.
User-Friendliness
Like the Classic Plus, the Artisan is simple to use, especially if you're already familiar with tilt-head mixers. The placement of the tilt-release switch and speed lever are also convenient for the user.
Ease of Cleaning
Splashes are a thing of the past with the Artisan. It uses the automatic slow start-up like the Classic Plus, but it also has a splash guard.
High-speed mixing won't make you nervous since this mixer is designed to keep the kitchen counter clean!
Unique Features
The KitchenAid Artisan is unique of its kind. Starting with the elegant color options, versatility because of mixer attachment options, and its well-thought-out design that makes operation and clean-up convenient for the user.
What we like about the KitchenAid Artisan:
Comes in many colors
Solid construction and user-friendly design
What we don't like about the KitchenAid Artisan:
Pricier than the Classic Plus
Capacity might still be limiting for larger quantities of ingredients
KitchenAid Classic Vs Classic Plus
Because it's easier to find KitchenAid Classic vs the Classic Plus nowadays, you are probably wondering if getting the Classic is as worth it if you initially preferred the Classic Plus.
Is the word "Plus" just a gimmick?
Well, to quickly compare the two Classic stand mixers, the KitchenAid Classic Plus and KitchenAid Classic both have a capacity of 4.5 quarts.
The two are both tilt-head mixers, so you can add ingredients as you mix, and they also use 275 watts of power.
So what's the point of getting the slightly pricier Classic Plus over the Classic if they're mostly similar? While both allow 10 speed settings, I think most users will appreciate the Soft Start feature of the Classic Plus to keep everything tidy.
What's The Difference Between Artisan And Classic Kitchenaid?
KitchenAid Artisan vs Classic, what's the difference?
For one, the Artisan costs under $460 compared to the Classic, that's under $350 based on their current prices.
KitchenAid Artisan also comes in more color options than the Classic, and it has a more powerful 325-watt motor than the Classic's 275 watts of power.
Furthermore, the Classic is half a quart smaller than the Artisan, and it doesn't have the Artisan's pouring shield.
What are the similarities between KitchenAid Classic and Artisan mixers?
Both Classic and Artisan are tilt-head stand mixers of the same size. They also come with similar accessories, such as the dishwasher-safe flat beater, 6-wire whip, and top rack dishwasher-safe dough hook.
So KitchenAid Artisan or Classic?
Both feature a 10-speed setting and a multi-purpose attachment hub. Unless the differences mentioned earlier are crucial for your needs, you can't go wrong even with just getting the Classic.
Is KitchenAid Artisan better than Classic?
In this battle between KitchenAid Classic vs Artisan, the winner depends on your priority features.
Some would say that the Artisan is better since it comes in more colors, has a bigger capacity and higher wattage, its bowl has a handle, and its pouring shield is a plus.
But if you don't mind these differences and have a smaller budget, the KitchenAid Classic is better and more practical than the Artisan. 
You can read more about their comparison in our KitchenAid Artisan vs Classic review.
Is The KitchenAid Artisan Powerful Enough For Bread Dough?
If you're looking for a KitchenAid stand mixer that can handle bread dough, you can't go wrong with the 325-watt Artisan.
It can mix a heavy, thick dough with ease, and you can also use the dishwasher-safe coated dough hook to knead effortlessly.
Take advantage of this model and try it with our perfectly crusty French baguette recipe!
Why Are KitchenAid Mixers Only 300 Watts?
Usually, 300 watts is good enough for a stand mixer to tackle kitchen tasks in most households.
It's not surprising that popular KitchenAid mixers, including the Artisan, only use a 325-watt motor.
But of course, you may need a more powerful stand mixer if you'll be mixing challenging ingredients or planning to use the stand mixer for your business and not just for occasional pastries and baked goods.
What Is The Most Owned Kitchen Appliance?
According to YouGov, an international online research data and analytics technology group, the most popular appliance brand is Tupperware, followed by KitchenAid.
And based on data from online research and customer searches, the most popular kitchen appliance is the Instant Pot, with the KitchenAid mixer in the top 5.
Speaking of the Instant Pot, did you know you can make cheesecake bites with it?
Why Are KitchenAid Mixers So Noisy?
It's normal for a mixer to be noisy, especially if you're using a large, powerful KitchenAid Mixer with an all-metal gear. The brand describes the sound as shrill, and according to them, it's possible to have different sounds among individual mixers of the same model.
However, KitchenAid recommends contacting them or visiting a service center if the noise is similar to knocking, screeching, grinding, or squealing. 🙉
FAQ About KitchenAid Classic Plus vs Artisan
Is KitchenAid Classic good enough?
Absolutely! If you don't have the budget to get the Artisan, the smaller and less powerful Classic stand mixer is good enough to handle common kitchen tasks. You can read how it's similar to the Artisan above. 
Is the KitchenAid Artisan powerful enough?
Yes, and it's one of the top-rated KitchenAid mixers. The 325-watt motor of the KitchenAid Artisan can handle even thick bread dough. 
Is KitchenAid a high-end appliance?
The KitchenAid brand is owned by Whirlpool, and their products are described as affordable luxury. 
What is the sister brand of KitchenAid?
If you're looking for high-end appliances, you can consider the sister brand of KitchenAid that is JennAir.
KitchenAid Classic Plus vs Artisan – Which One Wins?
So KitchenAid Classic Plus vs Artisan, which one should you get?
If you have the budget, go for the more powerful and bigger Artisan, especially if you often work on challenging ingredients. Its sleek design and attractive color choices should also easily suit your kitchen style.
But for a lower price, you also can't go wrong with the Classic Plus.
It has shared features with the Artisan, and even the KitchenAid Classic is a worthy contender if you can't find the Classic Plus.
If you loved this battle of KitchenAid Classic stand mixer vs Artisan, check out these other comparisons: