This post may contain affiliate links which means I will get a commission if you make a purchase at no additional cost to you. As an Amazon Associate I earn from qualifying purchases. Please read my disclosure for details.
What does garlic taste like? Described as strong, intense, and pungent, discover why garlic is widely used in dishes. Why does it taste different after cooking?
Most savory recipes often call for garlic. And if you're like me, who whispers, "You can never have too much garlic" when cooking with it, have you ever stopped and wondered what garlic actually tastes like?
It's one of those ingredients that will make you aware of its presence because of its strong flavor and aroma.
I'm sure you also notice that garlic becomes sharper and more pungent when you slice, chop, chew, or crush it.
The way garlic's flavor transforms when we cook and eat it is just too interesting, so I've broken everything down for you in this mouthwatering read about what garlic tastes like.
What Is Garlic?
Garlic is a bulb related to onions and is widely used in cooking because of its strong flavor.
This sharp and pungent characteristic of garlic makes it perfect as the standalone flavor of the food (think garlic bread) or an enhancer of other ingredients in the dish (garlic is the perfect wingman for butter when cooking steak!)
Getting fresh garlic cloves out of the bulb requires some effort.
But once you unravel the cloves of garlic from the papery skin, it presents an array of opportunities for you to make the most out of its flavor.
What is behind the taste of garlic for it to be versatile as sliced, chopped, smashed, pickled, roasted, fermented, powdered, or fused with oil?
Why are there so many flavor possibilities in the space between whole garlic and finely chopped garlic?
What Does Garlic Taste Like?
So what does garlic taste like? Garlic tastes strong, pungent, and slightly spicy when raw but transforms into a softer, almost buttery flavor once heated from cooking.
Garlic is just one of those ingredients with a taste and smell so distinct that you can use it as an adjective. But what is behind this garlicky characteristic?
I won't bore you too much with science stuff, but I discovered that garlic contains volatile flavor components that undergo changes in different cooking methods.
How you process garlic, and the amount of heat it's exposed to greatly influences its flavor. The higher the heat, the more volatile the substances become.
Fried and roasted garlic even develop special properties compared to steamed and boiled garlic!
So if you were to ask me, I think the garlic breath is always worth it.
What Does Raw Garlic Taste Like?
Raw garlic, especially when chopped, has a pungent, spicy taste from the sulfides released from chopping. They are also responsible for the mouthwatering aroma of garlic.
What Does Roasted Garlic Taste Like?
Once the garlic is roasted, the heat transforms the active compound called alliin. As a result, the sharp garlic taste turns into a softer, buttery-sweet flavor.
What Does Pickled Garlic Taste Like?
Like regular garlic, pickled garlic tastes pungent and spicy, but the tangy vinegar makes it even better.
I feel like this brief description is not doing justice to the flavor of pickled garlic. Go check out what pickled garlic tastes like to find out why its unassuming taste is loved in some cuisines!
What Does Fermented Garlic Taste Like?
The best way to describe fermented garlic is it's garlicky but more complex. The resulting buttery texture makes the garlic a bit sweet and softer than raw garlic.
What Does Garlic Powder Taste Like?
A handy-dandy condiment in household kitchens, garlic powder tastes like garlic but is less potent. The sweet-bitter taste makes it ideal for adding fullness to the dish's flavor without being too overpowering, like raw garlic.
Different Types Of Garlic And Garlic Products
Get the most out of garlic's taste and aroma by preparing it yourself. You can use it raw on sauces or roast it to take basic dishes like mashed potatoes to the next level.
Also known as black garlic, fermented garlic amplifies the bulb's signature umami flavor. The sweeter taste is also perfect for stews!
Not only is garlic powder easier to store, but it's also convenient if you just need garlic's flavor to add depth to your favorite dishes. It's not as overwhelming as fresh garlic, and I especially love it on rubs because of the deep flavor it adds to proteins.
Did you know that you can buy minced garlic in water? It saves cooking time because you no longer need to peel garlic by hand.
If you need a more intense garlic taste than garlic powder, use freeze-dried garlic on your dish. Try it on salad dressings and dips without any effort required because they're already chopped!
Shop The Post

Why You Should Try Garlic
Delicious: Garlic's strong taste is what makes it delicious. The spicy and umami flavor instantly gives recipes a fuller flavor.
Versatile: Garlic can be used raw, roasted, pickled, or fermented, depending on how you want it to taste. The way you chop, slice, or crush garlic will also create different flavors and aroma intensities in the dish.
Healthy: Besides being an indispensable cooking ingredient, garlic also offers numerous health benefits. It was even used to cure colds and lower blood pressure levels!
How Healthy Is Garlic?
Unless you're a vampire, garlic is good for you because of its health benefits.
More than the mouthwatering taste and aroma, the active component in freshly crushed garlic is found to have antiviral, antibacterial, and antifungal properties.
Historically, garlic was even used to treat poor digestion, respiratory issues, and fatigue by the father of Western medicine, Hippocrates.
However, it's worth noting that you should avoid garlic if you're taking anticoagulants to prevent bleeding complications.
Where to Find Garlic
Local supermarkets and groceries: Garlic is incredibly easy to find in most local markets and stores because it's widely used in cooking. You can also check other garlic products like minced garlic if you don't want to prepare the bulbs yourself.
5 Best Substitutes For Garlic
Granulated garlic is perfect for dishes that need powerful garlic flavor without the moisture from fresh garlic. Think dry rubs and sauces.
Since they're easier to store, you can stock up on garlic flakes and use them as a garlic substitute in recipes. For example, half a teaspoon of garlic flakes can replace an individual clove.
Do you need a savory boost on your sauce or marinade but don't have fresh garlic at hand? You can replace fresh garlic with garlic paste!
Use it raw or saute it in oil.
A quick drizzle of garlic oil can instantly elevate salads, steamed veggies, or even fries. It's a delicious garlic substitute if you don't want a very strong presence of garlic in your food.
Because of the similarity in flavor, shallot can be used in delicious garlic recipes. A tablespoon of minced shallot can substitute for one garlic clove!
Does Garlic Go Bad?
Like any other fresh produce, garlic can go bad. So how long does garlic last?
A whole garlic bulb should last between 3 to 6 months, while unpeeled garlic cloves should be good for 3 weeks. If they're peeled, their shelf life shortens to one week.
And if you chopped or minced your garlic, it's best used within a day for the best pungent garlic flavor and aroma.
How To Store Garlic
Store whole garlic bulbs somewhere dry, cool, and out of direct sunlight. If you've already peeled or chopped your garlic, keep them in an airtight container and store it in the fridge.
Do not make my mistake of just leaving them on a plate in the fridge, or you'll end up with garlic-flavored food items!
How to know if garlic is bad? It's time to throw away the garlic if the cloves have shriveled or softened. Green sprouts on the top of the garlic bulb are also a no-no.
And if your peeled garlic has turned mushy and brown, it's best not to use it.
Recipes That Have Garlic In It
Instead of buying it, why not make your own pickled garlic at home? Try this easy French pickled garlic recipe with salads, and thank me later!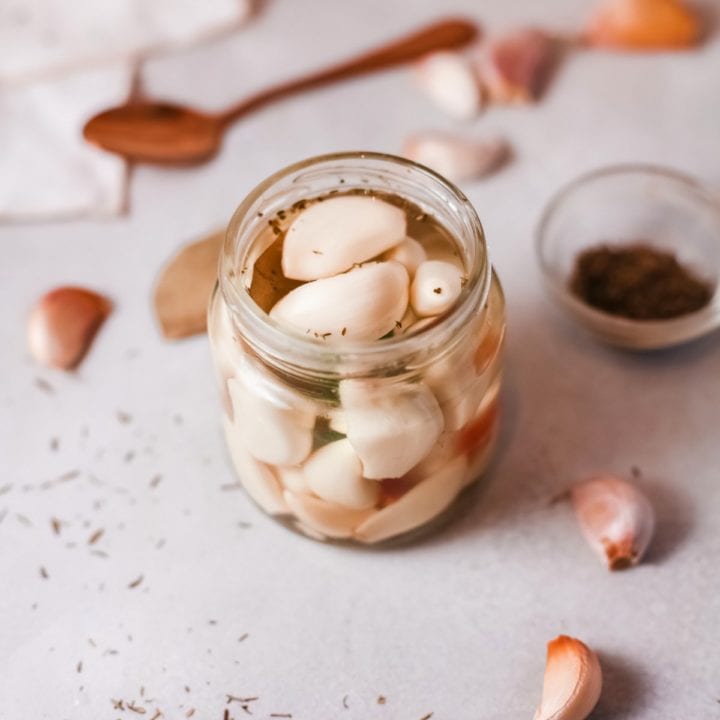 French Pickled Garlic
Yield:
1 cup french pickled garlic
This mouth-watering French Pickled Garlic will make your taste buds jump for joy! This garlic is pickled to perfection and will leave you wanting more.
Ingredients
1/3 cup white wine vinegar
1/3 cup dry white wine
1/2 small red chile, sliced thinly
3 sprigs thyme
1 sprig rosemary
1 dried bay leaf
7-8 whole peppercorns
1/4 teaspoon dried herbes de provence
1/2 teaspoon kosher salt
2 1/2 teaspoons granulated sugar
1 cup whole garlic cloves, skins removed
Instructions
Combine all ingredients except for the garlic in a small saucepan.
Place saucepan over high heat, and bring to a boil. Boil for 5 minutes.
Add the garlic cloves to the saucepan, and allow to boil for 30 seconds.
Pour contents of saucepan into a sterilized mason jar, and allow to cool for 45 minutes.



When the jar is cool, place the lid on it and store in the fridge.
The garlic will be ready to consume in as little as 2 days.



Stored in the fridge, the french pickled garlic will keep for a few months.
Notes
For the best flavor, allow your pickled garlic to sit in the fridge for about a week before opening.
* French pickled garlic recipe adapted from epicurious. This recipe was originally published on 08/2011 by Jaclyn. Notes and photos updated on 06/2020.
Recommended Products
As a member of affiliate programs, I earn from qualifying purchases at no additional cost to you.
Nutrition Information:
Yield:

5
Serving Size:

1
Amount Per Serving:
Calories:

77
Total Fat:

0g
Saturated Fat:

0g
Trans Fat:

0g
Unsaturated Fat:

0g
Cholesterol:

0mg
Sodium:

219mg
Carbohydrates:

15g
Fiber:

2g
Sugar:

3g
Protein:

2g
* Please note that all nutrition information are just estimates. Values will vary among brands, so we encourage you to calculate these on your own for most accurate results.
What To Eat With Garlic
Butter
One of my guilty pleasures in food is butter, and you know what pairs deliciously with its rich taste? Garlic!
Enjoy the combo on toast, shrimp, or creamy pasta like this shrimp scampi. This recipe even uses plant-based butter to lessen the calories!
Cashew
If you're craving a crunchy snack, try fried garlic and cashew nuts! The nutty and creamy cashews combined with crunchy and umami fried garlic bits will surely be your favorite snack while watching Netflix.
Chicken
Instead of boring buffalo wings, make chicken wings that are finger-licking worthy with garlic and parmesan! You can also serve different flavors of chicken wings, like garlic and honey or butter and garlic, perfect for game night!
What Does Elephant Garlic Taste Like?
Elephant garlic tastes like regular garlic but milder. Its flavor is also reminiscent of onion and leeks.
What Does Laba Garlic Taste Like?
Laba garlic is garlic preserved in vinegar. This green pickled garlic tastes sour and slightly spicy with the savory flavor of garlic.
What Does Black Garlic Oil Taste Like?
Regular garlic oil is already tasty, but next time you see black garlic oil in your grocery, this is your sign to add them to your cart. Black garlic oil tastes earthy and smoky, perfect for elevating homemade noodles!
Try it with this easy TikTok ramen noodle!
What Does Green Garlic Taste Like?
The best way to describe the taste of green garlic is it's a mix between scallion and leek. It's also sweeter and milder than regular garlic.
What Does Bad Garlic Taste Like?
When garlic goes bad, it won't smell as pungent and will form bitter-tasting sprouts. It will also smell sour, and the cloves will develop brown spots.
FAQ About Garlic
Does garlic taste like an onion?
Garlic tastes stronger than onion, but some types, like elephant garlic, have an onion-like flavor.
Does fresh garlic taste like garlic powder?
Fresh garlic has a more intense flavor than garlic powder, but the latter works as a substitute if you don't have fresh garlic for your recipe.
Does fresh garlic taste like garlic flakes?
Garlic flakes can sometimes taste more powerful than fresh garlic. When I'm sick, my go-to meal is rice porridge because it's warm, but the extra flavor from garlic flakes makes it more comforting. 
Conclusion
So what does garlic taste like?
Raw garlic has a strong, spicy flavor that transforms into a milder, sweet-buttery taste after cooking.
This indispensable ingredient is ready to be the flavor you want it to be, depending on the preparation.
I recommend trying garlic raw, roasted, pickled, and fermented to compare the flavors. This way, you'll know what form of garlic will suit your recipe best.
Garlic might repel vampires, but it sure won't deter foodies looking to make their dish tastier!
And for more frequently asked questions, visit our index of food-related questions and answers. Here are a few suggestions for you: