This post may contain affiliate links which means I will get a commission if you make a purchase at no additional cost to you. As an Amazon Associate I earn from qualifying purchases. Please read my disclosure for details.
This french pickled garlic recipe is incredibly easy to make and so delicious! The perfect Mediterranean appetizer or salad topping, this mellow garlic is a mouthwatering treat.


If you've never heard about pickled garlic before or if you have never tasted them you're probably wondering how they are. Pickled garlic it's the perfect mix between pickles and garlic cloves. A slightly tangy, mellow and soft garlic clove that's the perfect addition to cheese boards, appetizers and salads.
It's also delicious as a part of salad dressings and for making a tangy garlic butter. You can also use them as part of any Mediterranean inspired marinade and pretty much any other place you would use olives or anchovies. They are little nuggets of flavor after all!
If you are worried about them being too strong, or biting your tongue (I wondered how on Earth people could eat a whole garlic clove before trying them) don't worry at all. The cooking process gets rid of all that, you get all the garlic flavors and none of the bite. You also get the herby notes and a bit of sweetness and some tanginess.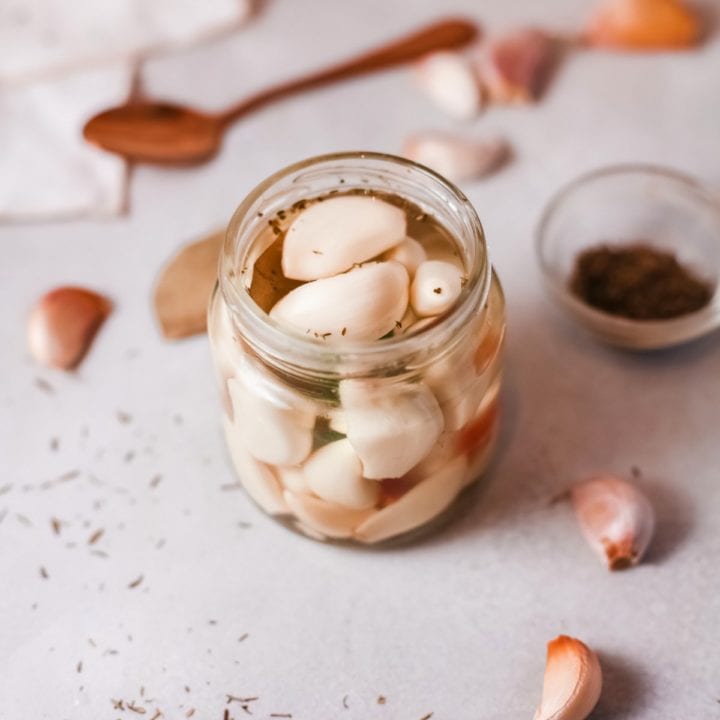 French Pickled Garlic
Yield:
1 cup french pickled garlic
This mouth-watering French Pickled Garlic will make your taste buds jump for joy! This garlic is pickled to perfection and will leave you wanting more.
Ingredients
1/3 cup white wine vinegar
1/3 cup dry white wine
1/2 small red chile, sliced thinly
3 sprigs thyme
1 sprig rosemary
1 dried bay leaf
7-8 whole peppercorns
1/4 teaspoon dried herbes de provence
1/2 teaspoon kosher salt
2 1/2 teaspoons granulated sugar
1 cup whole garlic cloves, skins removed
Instructions
Combine all ingredients except for the garlic in a small saucepan.
Place saucepan over high heat, and bring to a boil. Boil for 5 minutes.
Add the garlic cloves to the saucepan, and allow to boil for 30 seconds.
Pour contents of saucepan into a sterilized mason jar, and allow to cool for 45 minutes.



When the jar is cool, place the lid on it and store in the fridge.
The garlic will be ready to consume in as little as 2 days.



Stored in the fridge, the french pickled garlic will keep for a few months.
Notes
For the best flavor, allow your pickled garlic to sit in the fridge for about a week before opening.
* French pickled garlic recipe adapted from epicurious. This recipe was originally published on 08/2011 by Jaclyn. Notes and photos updated on 06/2020.
Recommended Products
As a member of affiliate programs, I earn from qualifying purchases at no additional cost to you.
Nutrition Information:
Yield:

5
Serving Size:

1
Amount Per Serving:
Calories:

77
Total Fat:

0g
Saturated Fat:

0g
Trans Fat:

0g
Unsaturated Fat:

0g
Cholesterol:

0mg
Sodium:

219mg
Carbohydrates:

15g
Fiber:

2g
Sugar:

3g
Protein:

2g
* Please note that all nutrition information are just estimates. Values will vary among brands, so we encourage you to calculate these on your own for most accurate results.
How to Store Pickled Garlics
You can make a large batch and keep it in the refrigerator. It's the perfect way to add some extra flair to any dish.
I don't advise you to use this recipe for shelf-stable canning. Garlic is a difficult ingredient to work with when canning so it's better to stay safe and just refrigerate it. You can keep it that way for around 4 months but trust me when I say you'll eat it much faster.
How to Customize Your French Pickled Garlic
You'll love the spice combination used in this recipe because it has a French countryside flair (and pairs perfectly with a strong cheese and wine!).
However this recipe is super customizable and you can play with it to fit what you have on hand or the flavors you are craving. Here are some spices that are really good too:
Dill
Hot chiles
Coriander
Lemon zest
Frequently Asked Questions about Pickled Garlic
Is pickled garlic good for your health?
According to The Garlic Box, picked garlic is rich in powerful antioxidants with anti-microbial properties. It's also a source of vitamin C and minerals that help boost your immunity. This is your free pass to indulge in this culinary wonder while doing something good for your body.
What do you use pickled garlic for?
French picked garlic can be used in any raw garlic dish from salad dressings and pickle plates, to hummus, cocktails and platters. Let your imagination guide you.
How long does pickled garlic last?
Pickled garlic can last a few days before going bad. However when refrigerated, picked garlic can last up to a few months. Rest assured, yours will be long gone (aka consumed) with a few days, weeks at best.
Why does garlic turn blue when pickled?
Pickled garlic cloves turn blue because they're soaked in an acidic solution. The pyrroles that form when the allicin in garlic reacts with amino acids turn the pickled garlic cloves blue. 
Why is my pickled garlic blue?
Your pickled garlic turns blue from the chemical reaction between the acidic pickling environment and compounds in garlic. But don't worry! Blue pickled garlic is perfectly safe to eat, and its color does not affect its flavor.
What Does Pickled Garlic Taste Like?
So what does pickled garlic taste like? Well, the best description is it tastes like garlic but better.
Even people who find garlic too strong and pungent will enjoy this pickled garlic recipe because the process gives the cloves a delectable, sour-sweet taste with just the right kick.
I recommend learning how to pickle garlic cloves because it's something you have to try for yourself to understand why people are obsessed with it.
But if you're still skeptical about it, read what pickled garlic tastes like. It will help you imagine its flavor profile better.
What Are The Benefits Of Pickled Garlic Cloves?
Why bother learning how to make pickled garlic cloves?
There are numerous pickled garlic benefits that you wouldn't want to miss. First, the foodie in you will surely appreciate the flavor and texture that pickling does to garlic cloves.
The delicious garlic taste is enhanced by the sour, sweet, and spicy flavors of the pickling solution. And after pickling, the firm garlic cloves turn soft, which I highly recommend eating over toasted baguette. 😋
This pickled garlic cloves recipe is also a great way to store garlic for longer, so hooray for zero food waste!
And finally, pickled garlic is good for you! Garlic is known for its antimicrobial properties, benefits for heart health, and potential for anti-cancer prevention.
So if you want to take advantage of garlic's health benefits but find fresh garlic too pungent to eat, try this milder-tasting pickled garlic.
Ingredient Additions & Substitutions For Pickled Garlic
There's an array of ingredients you can add to this pickled garlic recipe. The beauty of homemade pickled garlic is you can customize it to your tastebud's content.
You can make your pickled garlic cloves with red pepper flakes, cayenne pepper, fennel seeds, celery seeds, mustard seeds, or even honey!
Enjoy your pickled garlic extra spicy, sweet, or delectably earthy.
Shop The Post

What To Serve With Pickled Garlic
You can serve pickled garlic as a topping to your favorite pizza or toast. My personal favorite is pairing pickled garlic with an all-cheese pizza or buttery toast because its deep flavor enhances the richness of those dishes.
Another way to enjoy this pickled garlic recipe is on a charcuterie board. Elevate your cold cuts instantly with pickled garlic on the side.
Speaking of which, did you know that breakfast and brunch charcuterie boards are now a thing? Here's an easy breakfast charcuterie board that will surely make waking up a million times better.
Tips About Making This Pickled Garlic Recipe
Is it your first time making a pickled garlic cloves recipe? Here are some helpful tips and tricks to nail it at home:
For the best flavor, use fresh garlic, not pre-packed ones, for your pickled garlic recipe.
Want to keep your pickled garlic cloves from turning blue? Blanch your garlic first!
While you can pickle sliced and minced garlic, whole garlic cloves will be more versatile for many dishes because they won't fall apart as quickly.
What Do You Do With Pickled Garlic?
How to use pickled garlic? There are many ways to use pickled garlic cloves.
For example, swap freshly minced garlic with pickled garlic when you sautee your vegetables to give them a richer flavor. Pickled garlic also adds complexity to simple dishes like salads, sandwiches, pasta, and stir-fries.
And finally, if you're a meat lover, I'm sure you'll love pickled garlic on your steak. Try it on your favorite marinade recipe that needs an acidic punch!
I recommend reading what garlic taste like. Knowing what flavors to expect when cooking with garlic will help you come up with the tastiest combinations, including pairings with pickled garlic.
Conclusion
French pickled garlic will surely convert garlic skeptics to garlic lovers.
It transforms garlic cloves into soft, little nuggets of flavor that you can use anywhere from stir-fries, pizzas, and charcuterie boards to simple morning toasts that need an extra oomph.
To make this pickled garlic recipe, you only need to cook everything in a saucepan and store them in a mason jar. It's that simple!
Enjoy your French pickled garlic, and let us know your favorite way to use it in the comments!
You might also like: