This post may contain affiliate links which means I will get a commission if you make a purchase at no additional cost to you. As an Amazon Associate I earn from qualifying purchases. Please read my disclosure for details.
I'm sure you've all seen those jars of garlic floating in vinegar at the grocery store or more recently, seen the viral pickled garlic TikTok videos. But what does pickled garlic taste like? And more importantly, is it worth buying?
I never liked garlic! The smell of raw garlic made me feel about ready to barf. Why would anyone want to eat garlic? And what does pickled garlic taste like?
Over the years, my extreme distaste for garlic has changed. But what about pickled garlic? Does it taste like garlic?
What is Pickled Garlic?
Pickled garlic is a staple item in many cuisines around the world. A rarity in Nigerian cuisine. Pickled garlic is used in many different ways, including adding flavor to sauce, soups, stews, salads, rice bowls, kimchi, fried chicken, and even desserts.
The name "pickled garlic" refers to the method of preserving garlic. Garlic is typically fermented in salt brine and vinegar, giving it a tangy taste, much like pickled cucumber.
This process helps preserve the garlic, making it easier to store for long periods of time.
I'm literally salivating thinking about adding this goodness to alfredo sauce. The strong smell of garlic and the aftertaste always gave me a love-hate affair with alfredo sauce. Well, not anymore!
Why Do People Love Pickled Garlic?
Pickled garlic is an easy kitchen trick that adds a lot of flavor to dishes without much effort. You don't even need to cook it; you just chop up some garlic cloves and toss them in vinegar.
And it stores well in the fridge for up to three weeks.
What Does Pickled Garlic Taste Like?
The best part about pickled garlic is that it tastes like regular garlic—but better. You'll taste the garlic notes and a tangy flavor from the vinegar and brine when you eat it. The strong taste of garlic will no longer overpower your meal or your appetite.🤷🏾‍♀️
Should You Start Pickling Garlic?
Garlic is one of those foods you either love or hate. If you fall into the latter camp, it might be because you haven't tried pickled garlic.
This crunchy condiment adds flavor to salads, sandwiches, and desserts. And while many people think of pickles as being sour, there are several types of pickle recipes.
If you're like me and don't like regular garlic, pickling your garlic is a great way to start enjoying the garlic. One of my favorite way to pickle garlic is below.
10 Ways To Use Pickled Garlic
Pickled garlic adds flavor to food without adding calories or fat, making it perfect for snacking. Pickled Garlic is delicious, easy to make, and versatile.
If you are looking for ways to add flavor to recipes, try these:
Mix with vegetables for a bold taste
Add pickled garlic to your charcuterie board
Use pickled garlic to garnish your cocktails
Crush and spread over toasted bread with butter
Use pickled garlic to prepare your plain pasta
Replace regular garlic with pickled garlic in sauces
Marinate meat and fish with pickled garlic
Add pickled garlic to your meat or vegetable stock
Make pickled garlic vinegarette salad dressing
Add to frying oil to season deep-fried meat
P.S: If you're a fan of pickled foods and have been curious about the taste of pickled garlic, you might also be interested in exploring other pickled options.
One such option is pickled avocado, which not only adds a tangy twist to your dishes but also helps preserve this delicate fruit.
How To Easily Peel Garlic
Peeling garlic is simple if you know how to do it properly. If you don't want to spend hours trying to figure out what you are doing wrong, do this:
To remove the outer layer, separate each clove from the base of the garlic. Next, place the separated garlic into a bowl of hot water.
Leave for a few minutes to allow water to soften the skin. Finally, cut the tips of each clove with a sharp knife and peel off the outer layer.
How To Make Pickled Garlic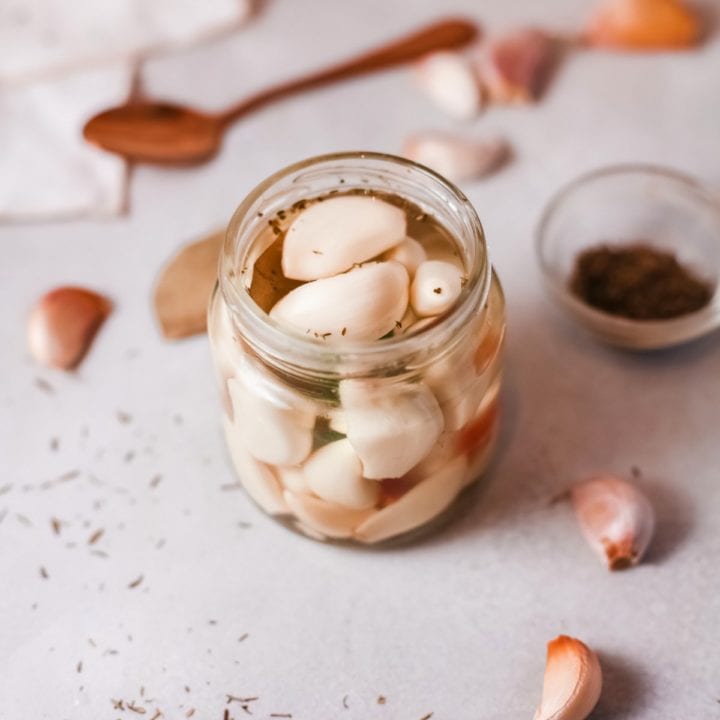 French Pickled Garlic
Yield:
1 cup french pickled garlic
This mouth-watering French Pickled Garlic will make your taste buds jump for joy! This garlic is pickled to perfection and will leave you wanting more.
Ingredients
1/3 cup white wine vinegar
1/3 cup dry white wine
1/2 small red chile, sliced thinly
3 sprigs thyme
1 sprig rosemary
1 dried bay leaf
7-8 whole peppercorns
1/4 teaspoon dried herbes de provence
1/2 teaspoon kosher salt
2 1/2 teaspoons granulated sugar
1 cup whole garlic cloves, skins removed
Instructions
Combine all ingredients except for the garlic in a small saucepan.
Place saucepan over high heat, and bring to a boil. Boil for 5 minutes.
Add the garlic cloves to the saucepan, and allow to boil for 30 seconds.
Pour contents of saucepan into a sterilized mason jar, and allow to cool for 45 minutes.



When the jar is cool, place the lid on it and store in the fridge.
The garlic will be ready to consume in as little as 2 days.



Stored in the fridge, the french pickled garlic will keep for a few months.
Notes
For the best flavor, allow your pickled garlic to sit in the fridge for about a week before opening.
* French pickled garlic recipe adapted from epicurious. This recipe was originally published on 08/2011 by Jaclyn. Notes and photos updated on 06/2020.
Recommended Products
As a member of affiliate programs, I earn from qualifying purchases at no additional cost to you.
Nutrition Information:
Yield:

5
Serving Size:

1
Amount Per Serving:
Calories:

77
Total Fat:

0g
Saturated Fat:

0g
Trans Fat:

0g
Unsaturated Fat:

0g
Cholesterol:

0mg
Sodium:

219mg
Carbohydrates:

15g
Fiber:

2g
Sugar:

3g
Protein:

2g
* Please note that all nutrition information are just estimates. Values will vary among brands, so we encourage you to calculate these on your own for most accurate results.
How to Store Garlic
Garlic is one of those foods we love to eat because it tastes good, but we don't always know how to properly store it.
If you're like most people, you probably buy jars of pre-packaged garlic cloves and throw them away.
But there are many ways to preserve garlic – try pickling your garlic.
Pickled garlic can be kept in the fridge for several months without being canned. Garlic in vinegar tastes even better than unpickled garlic.
Other Ways To Make Pickled Garlic
Tiktok Spicy Pickled Garlic
Less than a year ago, @lalaleluu went viral for eating a whole jar of pickled garlic as a snack. Here's how to make this TikTok pickled garlic.
Ingredients
Instructions
Drain out the brine from the pickled garlic.
Add siracha sauce, Korean chili flakes, and thyme to the jar of pickled garlic. Mix well and enjoy.
Notes
Lalaleluu used Knoblauch pickled garlic, but we've linked a similar option since Knoblauch pickled garlic is not wildly available.
Korean chili flakes are different from regular chili powder. And they taste different too.
Conclusion
Pickled garlic is a popular Japanese snack. It's usually served with rice or noodles or used as a condiment for sashimi. However, some people like to eat it straight out of the jar.
This snack will give your mouth an intense kick if you love spicy food. You can buy pickled garlic in bottles or jars, but you can also make it yourself by following the pickling process above.
You will love this pickled garlic recipe if you're a garlic lover. It has all the deliciousness of fresh garlic with a slightly sour and tangy taste that is perfect for adding to salads or sandwiches.
So, what does pickled garlic taste like? It's a bit sweet and with a milder garlicky flavor and has a texture that is softer than regular garlic. The vinegar gives it a nice zing, and the spices add flavor.
Reve up your sandwiches, garlic bread, and salad with this recipe. And when you do, let us know how well you enjoyed the new spin to your favorite food.
For more frequently asked questions, visit our index of food-related questions and answers. Here are a few suggestions for you: