This post may contain affiliate links which means I will get a commission if you make a purchase at no additional cost to you. As an Amazon Associate I earn from qualifying purchases. Please read my disclosure for details.
Ready to turn up the heat on your summer dining experience without turning down your savings? I got you!
Keep reading to discover a round-up of the most delectable and budget-friendly recipes that will have you feasting like a king or queen this summer.
Ready? Here are 25 easy summer meal ideas on a budget!
Easy Broccoli Cheddar Stuffed Chicken Breast
Looking for a wallet-friendly way to jazz up your summer chicken game? Say hello to our Cheap Summer Meal: Fresh and Flavorful Chicken Breast with Cheesy Broccoli!
This recipe is a budget-conscious dream come true, featuring juicy chicken breasts stuffed to the brim with creamy, cheesy broccoli goodness. Get ready to savor every bite of this delectable dish without giving your bank account a heart attack.
Get the Recipe: Easy Broccoli Cheddar Stuffed Chicken Breast Recipe
Quinoa Stuffed Bell Peppers
Get ready to tantalize your taste buds with a dish that's as stuffed as your wallet will be after making it! Say hello to quinoa stuffed bell peppers, the budget-friendly sensation that's taking summer dining by storm.
It's a fiesta of flavors that's easy to whip up, leaving you with a satisfying and oh-so-crave-able meal. So grab your apron and get ready to stuff your face (and those peppers) with this delicious recipe. Don't say we didn't warn you—your taste buds will beg for an encore!
Get the Recipe: Quinoa Stuffed Bell Peppers
Smash Burger Tacos
Introducing the irresistible Smash Burger Tacos, a mouthwatering fusion of crispy beef and melted cheese on a tortilla. This trending recipe combines the best of both worlds – the classic cheeseburger flavors and the taco crunch.
Quick and easy to make, it's a budget-friendly family meal that will satisfy everyone's cravings. Try these gluten-free delights today and experience the perfect blend of textures and flavors.
Get the Recipe: Smash Burger Tacos
Sour Cream Cucumber Salad
Looking for a salad that's cool, creamy, and just a little bit fancy? Meet the Sour Cream Cucumber Salad – a match made in culinary heaven!
This recipe combines the refreshing crunch of cucumbers and the velvety smoothness of sour cream for a flavor explosion that'll make your taste buds dance happily.
And here's a sneaky little trick to take it up a notch: a sprinkle of salt and a chill in the fridge for 30 minutes will give those cucumber slices an extra crispy kick.
Get the Recipe: Sour Cream Cucumber Salad
Oven-Roasted Yukon Gold Potatoes
You've got to give these Oven Roasted Yukon Gold Potatoes a try! They come out super crispy and delicious.
The best part? They're so easy to make with just a few simple ingredients, like olive oil. Just cut them in half, give them a generous drizzle of olive oil, and let them bake to perfection. Trust me, even picky eaters won't be able to resist these mouthwatering potatoes!
Get the Recipe: Oven-Roasted Yukon Gold Potatoes
— — —
My Top 5 Viral TikTok Recipes —Revealed! WARNING: These tasty recipes will make your mouth water! Still want to know which recipes made the list? Click here to get ALL five recipes.
— — —
Barbeque Chicken Thigh
Whether you're a seasoned pit master or a casual weekend warrior at the grill, these flavor-packed, melt-in-your-mouth barbeque chicken thighs will satisfy your cravings. You can whip up this delicious dish with minimal ingredients and easy grilling techniques in no time.
Fire up your gas grill and get ready to enjoy some mouthwatering, flavorful chicken skewers that are perfect for weeknight dinners or large summer barbeque gatherings.
Get the Recipe: Simple BBQ Chicken Thighs
Grilled Chicken Legs
Enjoy the irresistible taste of BBQ chicken legs with this flavorful recipe! Marinate your chicken drumsticks in a delicious barbecue seasoning rub and olive oil blend, then grill them to perfection for a budget-friendly and mouthwatering meal.
Hosting a colorful summer gathering or a laid-back backyard party? These grilled chicken legs are a perfect choice, guaranteeing moist and tender meat that will please any crowd.
Plus, with a quick 30-minute prep time, you'll have plenty of opportunity to savor the flavor and even enjoy some tasty chicken leftovers!
Get the Recipe: Grilled Chicken Legs
Fresh Tomato Basil Pasta
Looking for an unbelievably easy healthy pasta recipe bursting with ripe tomatoes, basil, and feta?
This recipe celebrates summer produce and takes only two minutes to throw together (excluding cooking the pasta). It's perfect for those moments when tomatoes are flowing in from your CSA.
Before summer's over and these delicious garden goodies are gone, try this tasty, easy recipe. Don't forget to add a squeeze of lime juice for an extra burst of flavor!
Get the Recipe: Easy Healthy Pasta with Tomatoes, Basil & Feta
Easy Roasted Cherry Tomato Pasta
Experience the delightful flavors of our affordable Roasted Cherry Tomato Pasta, showcasing plump cherry tomatoes bursting with freshness.
With a blend of garlic, olive oil, herbs, and spices, this recipe delivers a vibrant taste of summer. Whether you desire an economical or hassle-free meal, this versatile dish is the perfect choice.
Indulge in the juicy goodness of roasted cherry tomatoes and perfectly cooked al dente pasta, creating a light and gratifying summer feast.
Get the Recipe: Roasted Cherry Tomato Pasta
Mexican-style Grilled Corn Salad
Experience the incredible flavors of our Elote Corn Salad, a delicious Mexican creation that will ignite your taste buds and make you fall in love with corn and salads all over again!
The combination of sweet corn, fragrant herbs, tangy red onions, and a zesty blend of fresh lime juice and cream creates a mouthwatering taste explosion.
Take it to the next level by adding your favorite assortment of toppings and revel in the joy of enjoying a satisfying and cheap family meal.
Get the Recipe: Elote Corn Salad (Mexican)
Tempeh Fiesta Tacos
Picture this: crispy, soy sauce and lime juice-seasoned fried tempeh crumbles nestled in charred corn tortillas, accompanied by quick pickled veggies and homemade avocado crema.
Plus, they're nutrient-rich, which is perfect for those hot summer days when you crave a refreshing and fulfilling meal. By the way, don't forget the tortilla chips for extra crunch!
Get the Recipe: Tempeh Tacos
Southern Potato Salad Delight
There's nothing quite like a classic Southern Potato Salad to elevate your summertime picnic or potluck.
This beloved dish brings together tender potatoes, hard-boiled eggs, pickles, onions, and celery, united by a creamy dressing that bursts with flavor. This traditional potato salad won't dent your wallet, making it a budget-friendly option that everyone can savor alongside their favorite grilled dishes.
Get the Recipe: Southern Potato Salad
Chicken Lettuce Wraps
Get ready to satisfy your cravings with these mouthwatering cool chicken lettuce wraps. Bursting with flavor, these easy sesame chicken lettuce wraps are simply irresistible.
What's best is you can make them your own by adding your favorite toppings, whether it's the freshness of chopped green onions, the crunch of peanuts, the fragrant touch of cilantro, or any other delightful additions you desire.
Prepare for an explosion of personalized flavors that will have you returning for seconds.
Get the Recipe: Easy Sesame Chicken Lettuce Wraps
Chicken Bacon Ranch Pasta Salad Recipe
Indulge in the fresh flavor of this Chicken Bacon Ranch Pasta Salad, perfect for a hassle-free family dinner or a crowd-pleasing side dish.
Succulent chicken pieces, crispy bacon, al dente pasta, and vibrant vegetables combine together, all generously coated with a creamy ranch dressing. Elevate your summer dining experience with this affordable and satisfying meal idea.
Get the Recipe: Chicken Bacon Ranch Pasta Salad
Healthy Tuna Pasta Salad
Elevate your summer dinner repertoire with this fantastic Healthy Tuna Pasta Salad recipe. Combining the best of flavor and simplicity, this dish is a must-try.
Perfectly suited for warm evenings, its light yet satisfying ingredients make it an excellent choice for those seeking a delightful summer dinner recipe option.
Get the Recipe: Healthy Tuna Pasta Salad
Easy Cucumber Egg Salad Recipe
Try the viral Egg Salad recipe that has taken TikTok by storm. With its fresh cucumbers, boiled eggs, and homemade zesty Italian dressing, this dish is bursting with flavors and textures.
Enjoy it as a main or side dish on warm summer days, and savor a budget-friendly recipe that's perfect for any occasion.
Get the Recipe: Hot Girl Summer Salad
Buffalo Chicken-Stuffed Sweet Potatoes
Introducing the ultimate crowd-pleasing classic summer dish: healthy buffalo chicken stuffed with sweet potatoes.
In just 20 minutes, with only 5 budget-friendly ingredients, you can create a protein-packed, flavor-packed meal or snack that's sure to be a favorite in your home.
It's the perfect all-in-one dinner recipe or protein-packed snack, whether you're hosting a football party or enjoying a budget-friendly family meal.
Get the Recipe: Buffalo Chicken Stuffed Sweet Potatoes
Easy Grilled Lemon Chicken with Creamy Tzatziki Sauce Recipe
Discover the Grilled Lemon Chicken With Creamy Tzaziki Sauce recipe, a true grilling season gem bound to become your favorite. Achieve tender and juicy chicken by marinating it in a mixture of lemon juice, olive oil, oregano, salt, pepper, and garlic powder for at least two hours.
Take it up a notch by adding a squeeze of lemon and a sprinkle of lemon zest before grilling, enhancing the flavors to create an irresistible grilled chicken delight paired with the creamy goodness of tzatziki sauce.
Get the Recipe: Grilled Greek Lemon Chicken with Creamy Tzaisaki Sauce Recipe
Easy and Budget-Friendly Greek Lemon Chicken with Roasted Green Beans and Potatoes Recipe
Looking for a satisfying and cheap summer meal idea? Look no further than this mouthwatering one-pan chicken dish with fresh green beans and tender potatoes!
In just 30 minutes, you can have a wholesome and flavorful dinner ready to enjoy. With the delightful combination of garlic and lemon infusing the baked chicken, this recipe is bound to become a beloved staple in your family's meal rotation.
Get the Recipe: One Pan Chicken Green Beans and Potatoes
Easy Stuffed Zucchini Boats Recipe
These stuffed zucchini boats are a delicious way to enjoy the flavors of zucchini. Filled with a tasty beef sauce and covered in melted mozzarella cheese, they offer plenty of flavor.
With an abundance of zucchini from my grandmother, I'm determined to use them before they go bad, exploring various recipes and savoring this nutritious vegetable's versatility and health benefits.
Get the Recipe: Stuffed Zucchini Boats
Easy Ground Chicken Stuffed Peppers Recipe
Introducing this mouthwatering Healthy Ground Chicken Stuffed Peppers! This easy dinner idea is perfect for those seeking a low-calorie option.
Packed with nutritious brown rice, fresh veggies, flavorful ground chicken, and topped with your choice of sweet peppers and additional toppings, this versatile recipe can be easily customized to fit your dietary needs, whether you're following a keto or low-carb lifestyle (simply omit the rice).
Trust me; this is the ultimate stuffed pepper recipe that delivers on taste, convenience, and healthiness – it's truly a winner in my book!
Get the Recipe: Ground Chicken Stuffed Peppers Recipe
Romanian Meatballs with Sauce
Let's talk about meatballs! If you're a fan like me, you're in for a treat with my meatballs recipe. Made with affordable cuts of meat, these versatile meatballs can be baked, fried, slow-cooked, or even air-fried to perfection.
Serve them with sauce or pasta, or enjoy them alone – it's up to you. Get ready for a delicious meal that won't take much cook time.
Get the Recipe: Romanian Meatballs With Sauce
Instant Pot Barbecue Chicken
Get ready to enjoy a delicious summer meal with this easy, budget-friendly, and cheap Instant Pot Pulled BBQ Chicken recipe.
Forget spending hours in the kitchen; in just 20 minutes of high-pressure cooking, your tender, flavorful chicken will be ready to be shredded and coated with the mouthwatering Dinosaur Bar-B-Que Sensuous Slathering BBQ Sauce.
Serve this crowd-pleasing dish alone, in a wrap, or on buns with some refreshing coleslaw for the ultimate summer feast.
Get the Recipe: Instant Pot Pulled BBQ Chicken
Easy Grilled Salmon
Grilled salmon is a summer favorite for me and my family. There's something special about cooking it outside on the grill, enjoying the warm weather while savoring the delicious flavors.
This recipe is a go-to because it's quick to prepare, takes less than 30 minutes, and is budget-friendly. I especially love the homemade spice rub that adds an extra layer of flavor, and I often make a larger batch to have on hand for future grilling sessions.
Get the Recipe: Grilled Salmon
Easy Instant Pot Spaghetti and Meatballs Recipe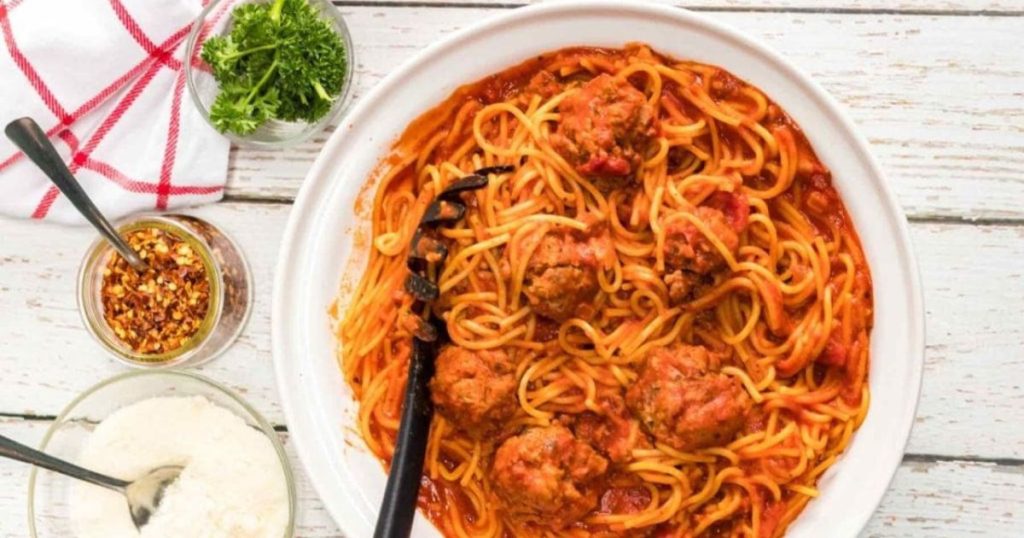 Summer is the perfect time to indulge in the delightful combination of meatballs and spaghetti. Trust me; it's an easy, budget-friendly meal with plenty of flavors.
With just a few simple ingredients and the convenience of an Instant Pot, you can have this cheap and delicious dish ready in less than an hour. So, why not treat yourself and your loved ones to a memorable summer feast while saving time and effort on cleaning up afterward?
Get the Recipe: Instant Pot Spaghetti and Meatballs
FAQ Easy Summer Meal Ideas on a Budget
What is the cheapest summer meal you can cook?
Try refreshing salads with seasonal vegetables, grilled chicken skewers with colorful veggies, or pasta dishes with light and flavorful sauces using affordable ingredients.
What should I eat for dinner in the summer?
For a refreshing and light dinner in summer, consider enjoying a salad with grilled chicken or fish.
How can I feed my family cheaply?
One way to feed your family cheaply is by planning meals, buying in bulk, and opting for budget-friendly ingredients.
Conclusion
These cheap and easy summer meal recipes are a fantastic way to enjoy the season without emptying your wallet. Whether you're looking for a light and refreshing dish or a hearty grilled feast, plenty of options suit every taste and budget.
From refreshing salads to mouthwatering grilled dishes, these cheap summer recipes offer plenty of options to choose from.
Whip up a quick, hot girl summer salad packed with colorful veggies and zesty dressings, or fire up the grill for juicy burgers and flavorful kebabs. With simple and affordable ingredients, you can create an awesome summer meal that will leave everyone wanting more.
Don't have enough time to try all of these viral recipes? I recommend starting with corn ribs, mango popsicles, and lemon-lime soda cupcakes.
So, don't let the summer heat dampen your culinary adventures – try out these recipes today and treat yourself to a budget-friendly and flavor-packed summer meal!
If you like these cheap and easy summer meal ideas on a budget, you'd love these related posts:
PIN FOR LATER!