This post may contain affiliate links which means I will get a commission if you make a purchase at no additional cost to you. As an Amazon Associate I earn from qualifying purchases. Please read my disclosure for details.
The cold winter days can be a nightmare for those with dry skin. The good news is that you can make your own scrub to tend to your skin. All you need is some basic ingredients that have so many health benefits as natural detoxifying agents. Use this lemon thyme salt scrub for a few days, and you will already feel a lot more replenished!


We often tend to neglect the best and the most natural outfit, our skin. The love and care we can give to our skin can enhance our quality of life more than we can imagine.
You can look at numerous cosmetic brands for moisturizer, but sometimes the best remedy is the simplest. When it comes to skincare, salt scrub can never disappoint. As a natural exfoliant, antiseptic, and detoxifier, salt still carries the flag as the mother of cosmetics.
Combining it with the essential oil of your choice, you can make your own salt scrub in no time. The salt helps to get rid of the dead skin and kills the harmful germs, while the oil moisturizes the skin. Simple as that!
While you are already getting off to a good start by using plain salt scrub, it is up to you to enrich its content with more therapeutic agents. Lemon is a perfect addition to this recipe, and we can't emphasize enough its benefits for the body.
Besides boosting your immune system, the vitamin C content in lemon protects you against sunlight damage and aging. It also prevents inflammation thanks to its acidity. Last but not least, you can use lemon to combat fungal infections and acne scars.
Another ingredient to complement this scrub is thyme, another antibacterial, and antifungal agent. When it comes to treating acne, wounds, skin rashes, and burns, thyme has proven to be one of the most successful herbs. In addition, thyme oil is widely used to treat eczema.
If you are convinced about the magics our lemon thyme salt scrub will do to your body, let's move on to the recipe.
Homemade Lemon Thyme Salt Scrub
Need skincare refresh? Here's how to make your own homemade lemon thyme salt scrub in under 10 minutes!
Materials
Optional: If you are using infused salt skip this step. Add the following to your mixture if you choose to use plain or kosher salt:
2 teaspoons fresh thyme, leaves stripped from the stems
Instructions
Pour the salt into a clean, sterilized container with a tight-fitting lid.



If you're using plain salt, add the lemon zest and thyme.



Pour the almond oil over top and screw the lid on tightly.



To use, just give the jar a stir to mix the oil and salt together, and scrub away in the shower!



Notes
Kosher salt can be replaced with infused salt or plain salt.
* The scrub will keep for up to 6 months stored in an airtight container at room temperature.
* This diy was originally published on 03/2012 by Jaclyn. Notes and photos updated on 09/2020.
Recommended Products
As a member of affiliate programs, I earn from qualifying purchases at no additional cost to you.
The Type of Salt To Use
First of all, you don't want to use regular table salt on your skin, as it is too abrasive for the skin. This recipe uses kosher salt, but you can opt for fine sea salt, Himalayan Salt, Dead Sea salt, or Epsom Salt. If you are indecisive or can't settle with one type of salt, you can combine two or more. Regardless of the type of salt you choose, you should use finely ground rather than coarse salt, as coarse salt can damage your skin and is not as strong at exfoliating as finely ground salt.
What To Use Instead of Salt
You might find that your skin is too sensitive for salt. In that case, you can substitute sugar (white or brown), oatmeal, groundnut, or even coffee.
The Choice of Oil For The Base
Choosing the oil is crucial, as the oil will retain the consistency of your salt scrub while helping to moisturize your skin. You are flexible in choosing the oil depending on how you want it to smell. The bottom line, though, is to make sure that your oil is thin enough to wash off easily.
In this particular recipe, I chose sweet almond oil because I like its mild aroma, and it has a medium consistency. You can also use Grape Seed, canola, olive, coconut, peanut, hazelnut, or walnut oil. Peanut, hazelnut, and coconut oil are especially great if you want a strong aroma.
Adding Fragrances
You can also add a few drops of essential oils or fragrances. Here are a few recommendations.
Lavender: Antiinflammatory, can be used to treat eczema, psoriasis, fungal infections, and skin irritation. It also helps to improve blood circulation, calms the body, and relieves pain.
Chamomile: Unclogs pores, treats breakouts, and prevents aging. It also relieves anxiety and inflammation.
Vanilla: Antiaging, reverses skin damage from free radicals, inhibits the spread of harmful bacteria.
Peppermint: Soothes skin irritation, eliminates acne-causing bacteria, helps with dandruff, promotes hair growth.
Rose: Reduces redness and inflammation, treats harsh skin peels and acne, reduces signs of aging.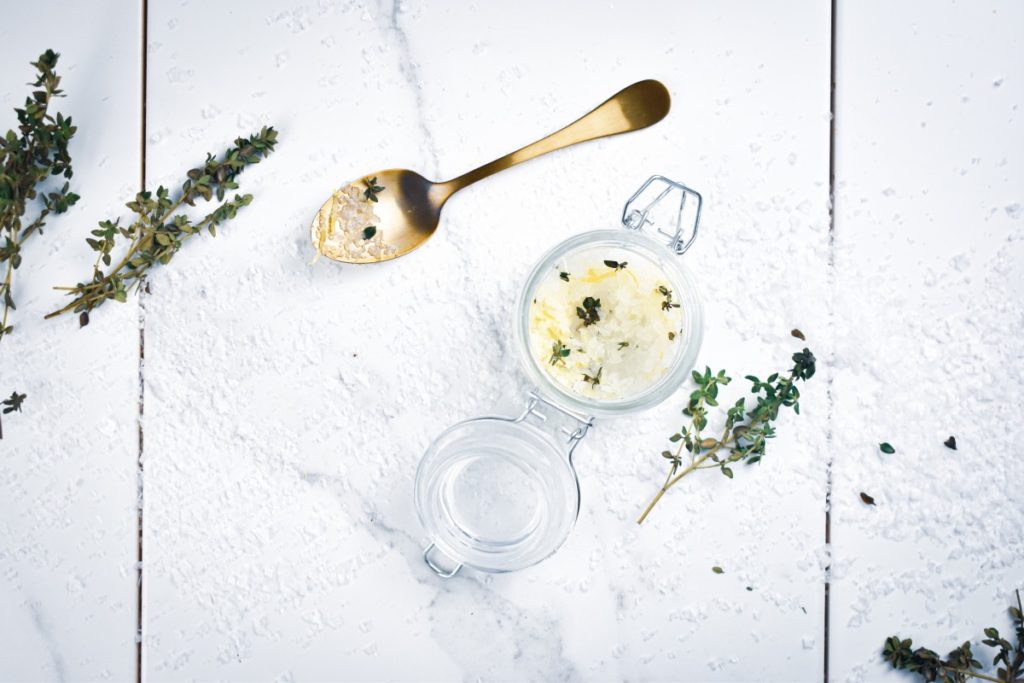 How to Use Lemon Thyme Salt Scrub
The first thing to do before using the scrub is to wet your skin in the shower or wash your face if you are only applying it as a facial scrub. It will be much easier to spread the scrub on wet skin.
Remember to give it a brief stir the mixture, as some ingredients might precipitate over time. Then, scoop a tablespoon of the scrub into your palm. I wouldn't suggest scooping with bare hands since you might contaminate the scrub.
Gently rub the scrub for 1-2 minutes in a circular motion, showing extra love and care for your hands, elbows, and feet (especially the heels). When applying it on your face, be extra gentle, and avoid eye contact since it will irritate your eyes. Once you have spread the scrub on the dry areas of your skin, rinse it off in the shower. Easy peasy!
The best frequency of lemon thyme salt scrub application depends on the skin type. The rule of thumb is, the dryer your skin is, the less frequent you should use it. 1-2 times a week should be enough for normal or dry skins. If your skin is extra oily, you might try your luck with a third shot. Remember; excessive use can cause itchiness and rash on your skin.
Storing The Lemon Thyme Salt Scrub
You can store the scrub in the same jar that you used to combine the ingredients. Just remember that the jar should have an airtight lid. Also, make sure that you store the scrub in a cool and dry environment like a cupboard or drawer in your bathroom.
The scrub should keep for anytime between 6 months to a year. If you substitute sugar for salt, the storage duration will decrease to 3-4 months.
Conclusion
Skincare is much easier than you think, especially if you are using a homemade salt scrub. A simple lemon thyme salt scrub goes a long way in treating any complication your skin can develop, and in maintaining its softness. Let us know in the comments if you have any tips to customize your salt scrub, and don't forget to tell us about the outcome!
If you enjoyed this post, you'd like these related posts: