This post may contain affiliate links which means I will get a commission if you make a purchase at no additional cost to you. As an Amazon Associate I earn from qualifying purchases. Please read my disclosure for details.
This delicious Instant Pot spaghetti bolognese will add a hearty feel to your dining table this season. Its aroma from the meat and vegetables will fill your home and entice everyone to the dining table.

I only have three words to describe this Instant Pot Spaghetti Bolognese: rich, savory, and flavorful. As soon as you take the first bite, the richness will burst in your mouth, leaving you in awe.
This quick mushroom and lentil Bolognese can be made in an Instant Pot or in a pressure cooker.
The beauty of pressure cooking is that it extracts all the flavor from the ingredients and melds it together to give a rich taste.
The result is a rich sauce that tastes like you simmered the bolognese on low heat for a few hours. If you don't have a pressure cooker, you can also simmer it on the stove for a few hours.
This recipe features meat, lentils, mushrooms, and a variety of herbs. On a vegan diet?
This vegan lentil Bolognese sauce recipe can be eaten with zucchini noodles or lasagna great for a nutritious and hearty meal for your entire family.
This recipe stores well in the freezer too. You can make a huge batch, freeze the instant pot Bolognese sauce and use it whenever you want. With the sauce ready, you can quickly whip up any dish when you're short on time.
Want to switch up or tweak this recipe?
Add some bacon or pancetta to the lentil mushroom Bolognese and the vegetables. When you're done with this classic and light instant pot Bolognese sauce, add a dash of parsley.
Another totally different but equally tasty recipe is this Mexican meatballs recipe. If you love meatballs, you have to try this recipe.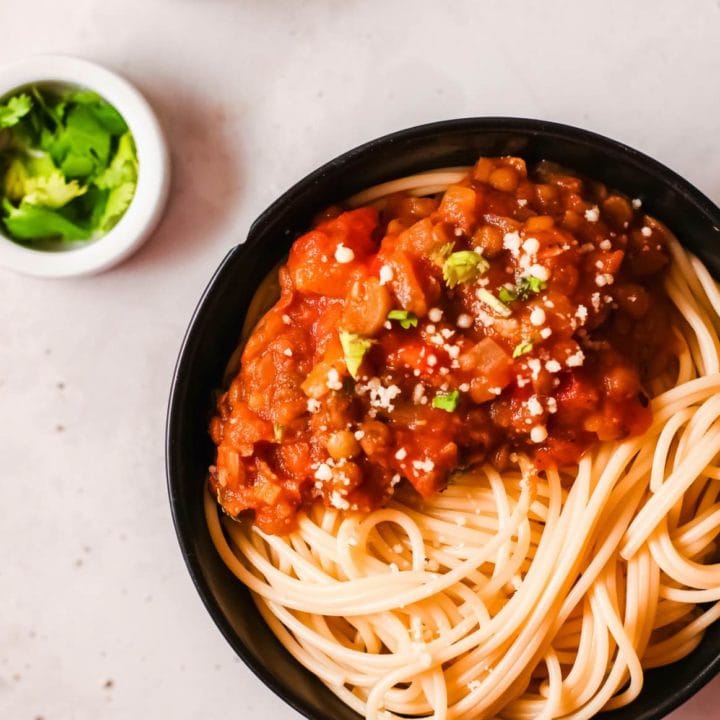 Instant Pot Spaghetti Bolognese
Additional Time:
2 minutes
There's nothing better than this family-favorite, hearty Instant Pot Spaghetti Bolognese recipe that brings the flavors of an all-day simmer to dinner in 30 minutes - it's the BEST Instant pot pasta!
Ingredients
Mushroom Lentil Bolognese Sauce
2 Tbsp olive oil
¼ Cup chopped onion
1 Garlic clove
1 Cup mushrooms, sliced
1 Cup lentils
1 Cup tomato sauce
½ Tsp oregano
½ Tsp onion powder
½ Tsp garlic powder
Instant Pot Lentils
1 Cup lentils
2 Cups vegetable stock
½ Tsp oregano
½ Tsp garlic powder
Pinch of salt
Instructions
Mushroom Lentil Bolognese Sauce
Heat the olive oil in a saucepan over medium heat.


Add the onion and garlic and cook until translucent, around 5 minutes.



Add the mushrooms and cook for 2 minutes per side or until golden.



Add the lentils, tomato sauce and spices and stir to combine.



Bring to a gentle simmer and cook for 10 minutes.



Remove from heat.

Instant Pot Lentils
Add all the ingredients to the Instant Pot and stir to combine.


Close the lid and the vent and set on high pressure for 10 minutes.


Naturally, release steam. Open the lid and stir.


Recommended Products
As a member of affiliate programs, I earn from qualifying purchases at no additional cost to you.
Nutrition Information:
Yield:

2
Serving Size:

1
Amount Per Serving:
Calories:

747
Total Fat:

21g
Saturated Fat:

4g
Trans Fat:

0g
Unsaturated Fat:

16g
Cholesterol:

16mg
Sodium:

1376mg
Carbohydrates:

101g
Fiber:

37g
Sugar:

17g
Protein:

46g
* Please note that all nutrition information are just estimates. Values will vary among brands, so we encourage you to calculate these on your own for most accurate results.
FAQ about Instant Pot Spaghetti Bolognese
What is the difference between Bolognese sauce and spaghetti sauce?
The main difference between bolognese sauce and spaghetti sauce is that Bolognese sauce typically contains meat and vegetables. While spaghetti sauce usually only contains herbs.
What can I add to spaghetti Bolognese to make it better?
To make your spaghetti bolognese taste better consider using great quality meat, homemade stock (or seasoning cubes), black pepper, and onions. For some kick, add spicy (habanero) pepper if you love a little bit of heat.
How do you thicken Bolognese sauce?
To thicken your bolognese sauce, simmer the sauce under low to medium heat until it gets to the consistency you want. This is exactly what I do for my homemade Nigerian meat stew.
Do you simmer Bolognese with lid on or off?
You want to simmer your bolognese with the lid off. Simmering your sauce with the lid off leads to the best reduction and increase in the flavor. It's not uncommon to simmer your sauce for a couple of hours.
Loved this Instant Pot Spaghetti Bolognese? You'll love these popular posts: