This post may contain affiliate links which means I will get a commission if you make a purchase at no additional cost to you. As an Amazon Associate I earn from qualifying purchases. Please read my disclosure for details.
This light Kumquat Poppyseed Vinaigrette salad dressing is extremely easy to prepare. Combining kumquat with honey, salt, pepper, poppyseed, and your favorite vinegar in a blender, you will have a sweet-tangy salad dressing that pairs flawlessly with a wide range of meals.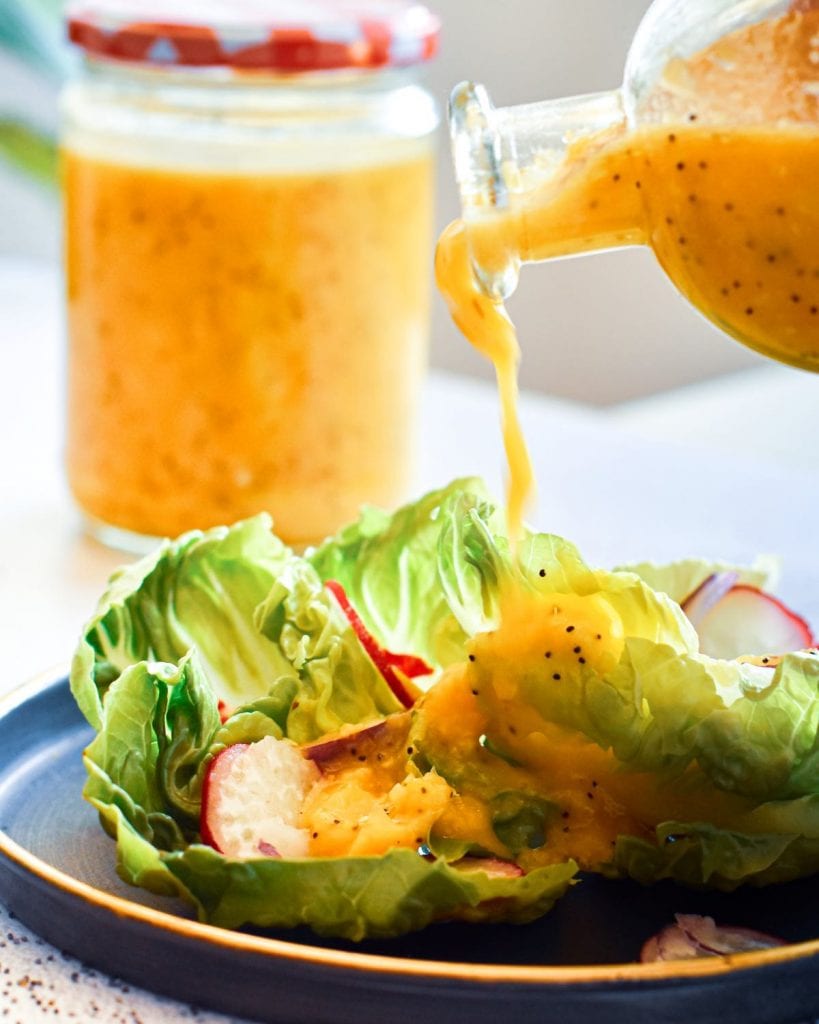 If you have tried the Rhubarb Ice Cream Floats, you must have come to the realization that lesser-known fruits sometimes make the best drinks or sauces. Here we have yet another eccentric fruit, this time from South-East Asia: Kumquat. Think round or oblong oranges in the size of an olive.
First produced in China in the early 12th century, it was soon exported to the new world and enabled us to experiment in the kitchen.
Kumquat's citrusy flavor leaves a sour and tangy aftertaste, while the zest is unexpectedly sweet. This makes it a perfect candidate for a vast variety of meals,. Because of its sweet-sour taste, it can be made into salad dressings and marmalades.
The high amount of pectin helps to thicken the dressing. When it comes to the health benefits, the kumquat is nothing short of the older siblings in the citrus family. It is rich in antioxidants, fiber, and, of course, vitamin C.
The reasons above are more than enough to make a vinaigrette out of kumquats. It is an unbelievably simple recipe, but you end up with a vinaigrette that can be utilized in so many ways in the kitchen.
You can use it as a marmalade for breakfast alongside soft cheese.
Because of its acidity, it pairs beautifully with beef or lamb
It is a top choice as a salad dressing for lettuce, leeks, cold pasta salads, couscous, and many more.
I wasn't kidding when I said the recipe was simple. All you need is a blender or food processor to combine the kumquat with vinegar, honey, salt, pepper, olive oil, and poppy seeds. You don't have to peel or even chop the kumquat since the peel is perfectly edible.
I definitely recommend the addition of poppyseeds because they add a perfect nutty flavor and a slight crunch. Not only that, but it is extremely nutritious, full of minerals like calcium, zinc, phosphorus, manganese, and iron. Poppyseed is also a perfect home remedy for anxiety, insomnia, and fatigue.
Now, let's elaborate on the kumquat poppyseed vinaigrette salad dressing recipe.
Kumquat Poppyseed Vinaigrette
Yield:
1 1/2 cups vinaigrette
This kumquat vinaigrette is wonderfully versatile! Drizzle some of this vinaigrette atop freshly roasted/steamed/sauteed asparagus or leeks. Do it. Your life will change in amazing ways.
Ingredients
15 whole kumquats, washed, scrubbed and dried clean
1/4 cup orange champagne vinegar (if you can't find this, no worries! Just substitute regular champagne vinegar or white wine vinegar)
1/2 teaspoon kosher salt
1/4 teaspoon freshly cracked pepper
1 tablespoon honey
1/2 cup good quality extra virgin olive oil
1 tablespoon poppyseeds
Instructions
Combine the kumquats, champagne vinegar, salt, pepper, and honey in a blender or food processor. Process on low until the kumquats are completely pulverized and the mixture is a pale orange color, about 30 seconds or so.



Turn the mixer or food processor on low speed and remove the small opening in the top of the lid. Slowly drizzle the olive oil into the mixture in a steady stream.



After the olive oil is incorporated, allow the vinaigrette to mix for another 30 seconds or so in the blender or food processor. This will help incorporate a lot of air into the dressing and make for a thick, creamy finished product. yum!



Turn the blender or food processor off, and using a spatula or a spoon, stir in the poppyseed. Give the vinaigrette a taste and adjust the seasonings to your preference.



Pour the vinaigrette into a mason jar or other glass container with an airtight lid, and transfer to the fridge to store.



The kumquat vinaigrette will keep in the fridge for up to one month. Just give it a good shake before using it!



Notes
* This recipe was originally published on 02/2012 by Jaclyn. Notes and photos updated on 09/2020.
Recommended Products
As a member of affiliate programs, I earn from qualifying purchases at no additional cost to you.
Nutrition Information:
Yield:

12
Serving Size:

1
Amount Per Serving:
Calories:

104
Total Fat:

9g
Saturated Fat:

1g
Trans Fat:

0g
Unsaturated Fat:

8g
Cholesterol:

0mg
Sodium:

91mg
Carbohydrates:

6g
Fiber:

2g
Sugar:

4g
Protein:

0g
* Please note that all nutrition information are just estimates. Values will vary among brands, so we encourage you to calculate these on your own for the most accurate results.
Cooking Tools
If you don't have a blender or food processor, you can still make this vinaigrette; it would just require some arm strength. You can mince the kumquats with a knife, transfer them into a jar with the rest of the ingredients, and give it a veeeery good shake.
Nevertheless, I would suggest using a food processor to make the kumquat salad dressing less chunkier. Besides, it will break up the seeds and release the thickening reagent within to give you a nice and creamy product.
Finding Kumquat
There are two types of kumquat. If you are living in the States, Nagami is the more common type, while Meiwa is indigenous to China and rarely found here.
Just because it is an exotic fruit doesn't mean that it's hard to find. You can find kumquat in many farmers' markets or organic food markets (or here on Amazon). Keep in mind that their season is usually between November and March. For the best quality, always pick the firm, bright-orange kumquats, and avoid the wrinkled and green ones.
If you can't find kumquat in your area, why not grow it in your backyard or balcony? It is so easy to grow it especially in warm areas like Florida or California.
Storing
I hate to break it to you, but if you have bought kumquats, you should go ahead and make that kumquat poppyseed vinaigrette ASAP. Because of their thin peels, they are quite prone to going bad in a matter of days. Even if refrigerated, you can store them for only up to a week.
On the other hand, the kumquat poppyseed vinaigrette will keep in the fridge for up to a month. You should just remember to shake it before using it, as it will emulsify over time.
Add/ Substitute/ Remove
This kumquat salad dressing recipe calls for orange champagne vinegar, but you can use any other type from white wine vinegar to apple cider vinegar.
You can substitute the following for olive oil: Peanut oil, avocado oil, canola oil, coconut oil, and walnut oil. You are also welcome to combine any of them with olive oil.
You can use fine sea salt instead of kosher salt.
If you are on the sour side of salad dressing, you can add one tablespoon of lemon juice or Dijon mustard to combine.
Another option to enrich the content of your dressing is to add a clove of minced garlic.
Can't find kumquats in your area. Oranges are a close alternative.
Conclusion
This kumquat poppyseed vinaigrette consists of very few ingredients, and requires only a few minutes in the kitchen; yet, it is PACKED with flavor and nutrients. You can customize it in any way you can imagine, and toss it on so many meals. This multifunctional salad dressing is here to make your life easier in every aspect!
Loved this Kumquat Poppyseed Vinaigrette recipe? You'll love these related posts: