Bacon jam is an innovative way of utilizing smokey streaky bacon. You will use a slow cooking method to mix the bacon with onions, apple cider vinegar, brown sugar, and spices. It sounds absurd, but after making this wonderful bacon-based relish, you will not want to go one day without it.


I know many of you are thinking "April Fools was two months ago" after seeing the title. How can one possibly associate bacon with jam, which is something sweet? Well, I urge you to leave the lexical definition of words behind when seeking unique recipes. Otherwise, how will you explain the heavenly chocolate pizza?
Back to our recipe, making jam is not all about slow cooking seasonal fruit. What you are looking for is a sweet-savory relish that will complement the savory elements of breakfast, such as blue cheese.
Think of it like chutney, spread, or relish, all of which can pair amazingly with baked breakfast goods like a croissant, and cheese. In fact, you can even find ready-made bacon jam in jars at your local store, but you won't believe how easy making your own bacon jam is.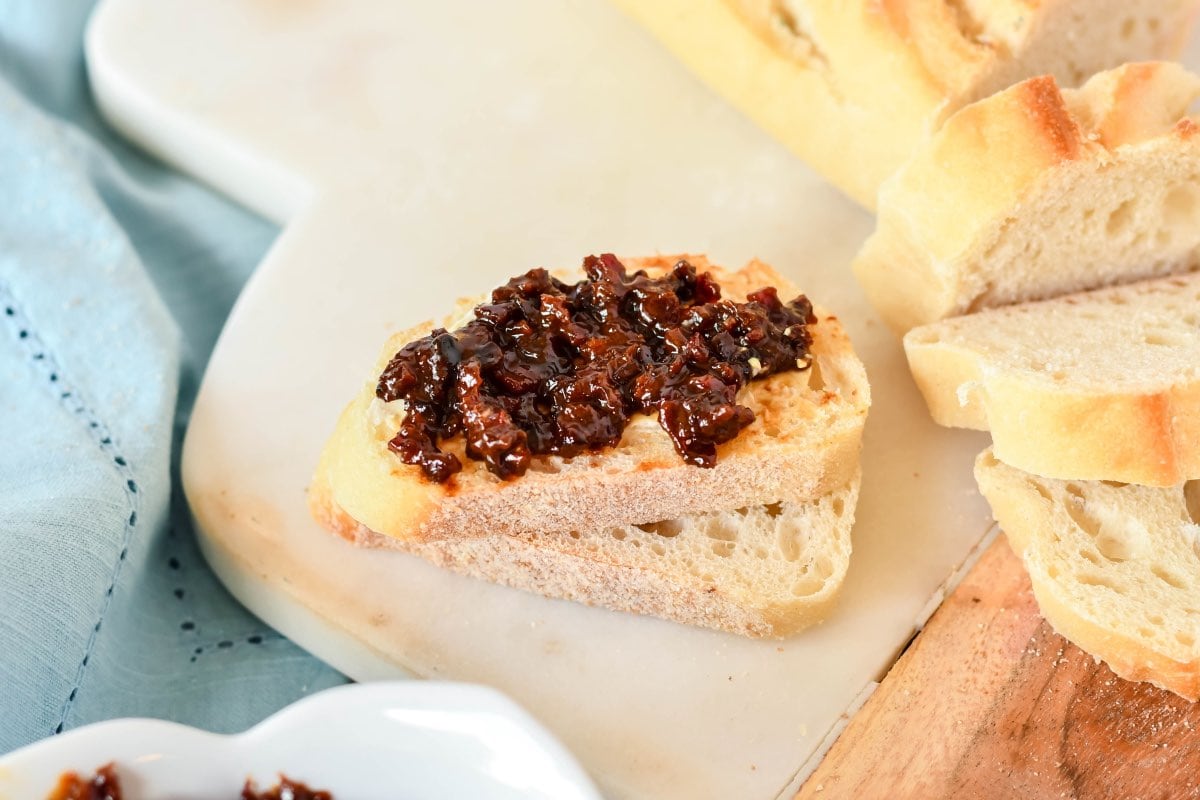 The first step is to saute your chopped bacon until it becomes crispy. After transferring them on a paper towel or dry plate, don't be so quick to get rid of all the bacon fat because it's the star of the show.
Using 1-2 tablespoons of bacon fat, you are going to saute onions and shallot so that they can get caramelized and absorb the flavors of the fat. Once the onions are translucent, you will mix in the remaining ingredients to obtain a balance of sweetness and acidity.
Now, you can actually simmer it until it thickens, and serve it immediately, but that would be like releasing a movie without editing it.
If you could slow-cook it for a couple of extra hours, you would help all the flavors fuse into each other and obtain a certain thickness and consistency – hence the name bacon jam.
This particular bacon jam recipe brings in some extra ingredients to create an even quirkier mixture. A few tablespoons of brewed espresso and whiskey for enhancing the tangy and smokey flavor goes a long way.
On the opposite spectrum, we have molasses as a thickening agent and sweetener alongside brown sugar. And, what is a bacon jam without a pinch of fresh herbs? In this recipe, thyme is the go-to herb because it fits for all kinds of dishes, has plenty of health benefits, and is never an allergen.
Homemade Bacon Jam
Total Time:
5 hours
5 minutes
This bacon jam recipe is about to change your life for the best (literally the best you'll ever have). Spread it on toast, use it as a burger topping or savor the flavor crackers. You'll never go back to plain old jam again!
Ingredients
1 pound bacon, chopped roughly into one-inch pieces (freezing the bacon first makes this easier!)
1 large vidalia onion, diced
2 garlic cloves, minced
1/2 cup apple cider vinegar
1/2 cup dark brown sugar, well-packed (light brown sugar will work too)
1/4 cup pure maple syrup (the real stuff, please!)
2 tablespoons molasses
6 tablespoons brewed espresso
1-2 sprigs of thyme leaves, stripped from the stem
6 tablespoons whiskey (scotch or bourbon would be excellent here too)
1/2 teaspoon cayenne pepper
1/2 teaspoon instant espresso powder
Instructions
In a large skillet over medium heat, cook the bacon until it's brown and crispy. You may need to do this in two or three batches, depending on the size of your skillet.


Drain the cooked bacon on paper towels and set aside.



Pour off all the bacon fat from the pan except for a tablespoon or two.



With the heat on medium-low, saute the onion and garlic in the bacon fat for a minute or two, until they are translucent.



Add the apple cider vinegar, brown sugar, maple syrup, molasses, espresso, thyme leaves, whiskey, cayenne pepper, and espresso powder.



Turn the heat up to high, and boil the ingredients for 2 minutes, stirring constantly.



Turn the heat off and add in the bacon, stirring to combine.



If using a crockpot, transfer the mixture to the crockpot and cook on high, uncovered for 4-4 1/2 hours, or until the mixture is thick and burnished. Stir every so often during the cooking process, and if the jam gets too dry, add a tablespoon or two of water.



If cooking on the stove, transfer to a medium-sized dutch oven or tall-sided pot and cook on medium-low for 4-4 1/2 hours, or until the mixture is thick and burnished. Stir every so often during the cooking process and, as above, if the mixture gets too dry, add a tablespoon or two of water.



Transfer the jam to the food processor and pulse until coarsely chopped.



Portion the jam into glass jars (two 6-ounce jars, or three 4-ounce jars), and allow to cool to room temperature before putting the lids on.



Transfer to the fridge, where it will keep for up to a month. Be sure to write the date you made it on the jar!
Notes
* Recipe adapted from Serious Eats. This recipe was originally published on 06/2011 by Jaclyn. Notes and photos updated on 09/2020.
Recommended Products
As a member of affiliate programs, I earn from qualifying purchases at no additional cost to you.
Nutrition Information:
Yield:

12
Serving Size:

1
Amount Per Serving:
Calories:

259
Total Fat:

13g
Saturated Fat:

5g
Trans Fat:

0g
Unsaturated Fat:

8g
Cholesterol:

37mg
Sodium:

645mg
Carbohydrates:

18g
Fiber:

0g
Sugar:

16g
Protein:

13g
* Please note that all nutrition information are just estimates. Values will vary among brands, so we encourage you to calculate these on your own for the most accurate results.
Cooking Tools for This Bacon Jam Recipe
For sauteing the bacon and onions, I would recommend that you use a large cast-iron skillet, as the large surface will make the thickening faster and more evenly.
For the slow cooking process, you have a few options. The intensity of the cooking will depend on the type of pot you are using. If it is a crockpot, you should cook the jam on medium-high to high. If you have a dutch oven or a regular tall-sided pot, you should cook over medium-low.
The cooking time depends on the pot, but the recommended time to obtain thickness is 4-5 hours. Feel free to adjust the thickness or moisture by adding small amounts of water along the way.
You might be wondering if you can use slow cooker. Personally, I wouldn't prefer it just because the evaporation is too slow, and the jam won't be concentrated enough without evaporation.
Before transferring the jam to a food processor, you should wait for it to cool down to room temperature. Also, I wouldn't over-pulse it just because I want to retain a level of chunkiness in the jam.
Storage
When refrigerated, your bacon jam should last for up to a month (if you can keep it that long without touching it). All you have to do is to divide the jam amongst small jars with tight-fitting lids so that you don't have to take all of it out at once for reusing. You can also freeze it; just remember to thaw it overnight before spreading.
If you have a pressure canner, you can use it at 11 lbs for 75 to can your jam for it to last longer. Because there is bacon in the recipe, I definitely wouldn't recommend using a hot water bath for canning. Overall, the safest way to store bacon jam is to put it in jars and refrigerate it.
Add / Remove/ Substitute
One of the biggest concerns about using coffee in bacon jam is the fear that the jam will have a sharp coffee taste. In fact, coffee is there to only deepen the taste of bacon. With everything else including the herbs and spices, you won't even notice the espresso. However, if you are on caffeine-diet, you can substitute with brewed orange pekoe tea. You can also keep it simple and omit coffee altogether.
If you don't have maple syrup, you can replace it with dark honey, amber syrup, or simply use an extra ¼ cup of molasses.
Don't have apple cider vinegar? You can always substitute white wine vinegar or rice vinegar.
In terms of bacon, you can use any type, but I believe smoked bacon makes the best bacon jam, as it has a distinct flavor to my liking.
Frequently Asked Questions about this Bacon Jam Recipe
What is bacon jam made of?
This bacon jam recipe uses bacon, onion, garlic, apple cider vinegar, dark brown sugar, maple syrup, molasses, brewed espresso, whiskey, thyme, and cayenne pepper.
What do you eat with bacon jam?
The list of things you can eat with bacon jam is long enough to make a book. Simply put, you can spread it on buttered toast, between a croissant, hamburger buns. It also pairs splendidly with goat cheese, omelet, roasted potatoes, and as a pasta sauce with chopped tomatoes.
How long does bacon jam last in the fridge?
Bacon jam lasts in the fridge for 3-4 weeks, longer if frozen.
Can you buy premade bacon jam?
You should be able to find ready-made jam in most places, including Walmart.
Conclusion
Although it sounds unfamiliar at first, there is no occasion that bacon jam will be frowned upon. You can serve it as an appetizer or relish alongside any meal, at any time, and it is sure to steal the spotlight. You can technically buy it, but why would you give up on the salivating preparation and cooking process? Just make sure to not shove your face in the pot accidentally because it will be that good!
Enjoyed this bacon jam recipe? You'll love these related content: